Chris Cutler & Yumi Hara with Toshiaki Sudoh
Gig
When:

2016 / 12 / 3 (Sat)

Live House:

Airegin - Yokohama

Category:

Open Time:

19:00

Start Time:

19:30

Adv. Price:

3000 yen

Door Price:

3500 yen

Tickets:

045-641-9191

Website:

Added by:
Details
Chris Cutler (Drums: Henry Cow, CASSIBER, Art Bears, Half the Sky, The Artaud Beats, Jump for Joy! etc) and Yumi Hara (piano, vo: Half the Sky, The Artaud Beats, Jump for Joy! etc) with Toshiaki Sudoh (bass: Eiko Ishibashi, Jim O'Rouke, Machine and the Synagetic Nuts etc). They will be playing some materilas from Yumi's gorthcoming 2nd solo album and new pieces based only on numbers plus intense improvisations.
The venue is very well-equipped with a grand piano, friendly atomosphere with good drink. N.B. it is on the 2nd floor which only accessible via very steep staircase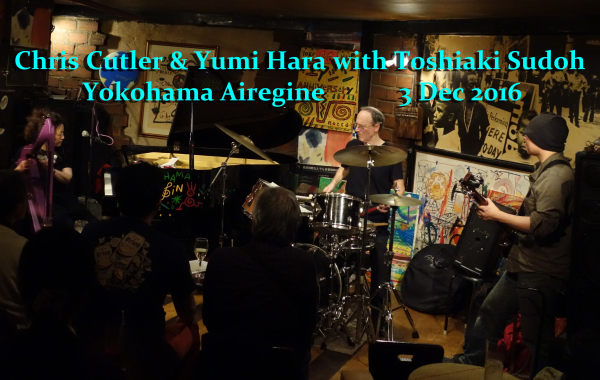 Chris Cutler & Yumi Hara at Hiroshima Univ. video
---
Live House
Live House:

Website:
Address:

5-60 Sumiyoshi-cho, Naka-ku, Yokohama, Kanagawa

Area:

Yokohama

住所 (日本語):

横浜市中区住吉町5-60

Closest stations:

Bashamichi, Kannai, Sakuragicho
Interested:
It's too late to register for this Event.