Modular synthesizers offer infinite possibilities and flexibility. A modular synth is constructed by combining modules, individual components responsible for generating or processing sound. This allows for nearly infinite combinations of sound creation. Drawing from experiences in London/Berlin and activities in jazz and improvisation, including the launch of the Tokyo Improvisers Orchestra, musician Miya embarks on a modular synth and flute project in 2024. By incorporating and manipulating the flute's sound in real-time with the modular synth, this project transcends the limitations imposed by traditional instruments' structures, sculpting various soundscapes in harmony with breath.
Yumiko Tanaka is an innovative shamisen player, excelling not only in the traditional scene but also as an outstanding improviser. On this occasion, two musicians who push beyond conventional boundaries will explore the possibilities of acoustic and electric expressions as a DUO.
Live House
Live House:

Address:

3-36-11-B1, Sendagi, Bunkyo-ku

Area:

Sendagi

Address (Japanese):

文京区千駄木3-36-11

Closest stations:

Sendagi
Details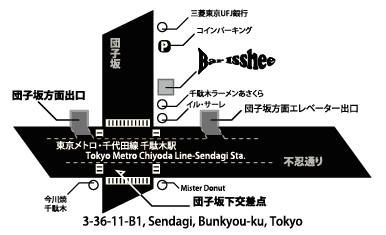 文京区千駄木3-36-11 千駄木センチュリー21 地下1階
千代田線千駄木駅徒歩2分、団子坂下交差点すぐ
「千駄木ラーメン あさくら」の地下
Small bar near Sendagi station (Tokyo Metro Chiyoda-line).
Email: barisshee@keh.biglobe.ne.jp
https://www.facebook.com/BarIsshee
Map (Japanese) at http://isshee.at.webry.info/
Map (English) at https://goo.gl/maps/ySA6ygPZ32Qj7xHv6?coh=178573&entry=tt