纐纈雅代 (masayo koketsu) (sax), ヒグチケイコ (keiko higuchi) (voice)

charge: 投げ銭制 baksheesh (別途チャージ500円 + ドリンクオーダー plus bar charge 500 yen and drink order)
予約方法 for the reservation
・予約受付メールアドレス:barisshee@keh.biglobe.ne.jp
タイトルを「9/18予約」とし、上記アドレスに氏名(フルネーム)と人数(最大2名)と電話番号をお知らせください。整理番号を返信いたします。予約は9月17日24時で締め切ります。それ以前に定員に達した場合はその時点で予約終了となります。
please send a mail to barisshee@keh.biglobe.ne.jp with a title named "9/18予約" along with your name, number of people (max. 2) and a phone number. The reservation should be made but the midnight of September 17th. When the seats are all filled, reservation slots would be closed the.
メールにてご予約、整理番号順の入場となります。
携帯からメールされる方は、PCからのメールを受け取れるようにしておいてください。
なお事前連絡無しの無断のキャンセルの場合、
今後の予約ができなくなる可能性もありますので、
充分ご承知おきください。
Live House
Live House:

Address:

3-36-11-B1, Sendagi, Bunkyo-ku

Area:

Sendagi

Address (Japanese):

文京区千駄木3-36-11

Closest stations:

Sendagi
Details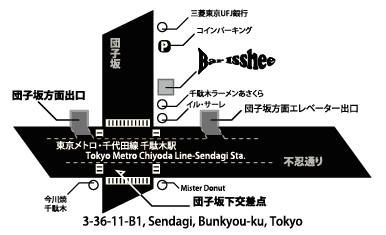 文京区千駄木3-36-11 千駄木センチュリー21 地下1階
千代田線千駄木駅徒歩2分、団子坂下交差点すぐ
「千駄木ラーメン あさくら」の地下
Small bar near Sendagi station (Tokyo Metro Chiyoda-line).
Email: barisshee@keh.biglobe.ne.jp
https://www.facebook.com/BarIsshee
Map (Japanese) at http://isshee.at.webry.info/
Map (English) at https://goo.gl/maps/ySA6ygPZ32Qj7xHv6?coh=178573&entry=tt