Ryosuke Kiyasu (snare drum solo)
I'm planning to perform in the orthodox style with a snare drum set on a snare stand.
It will be a solo performance of about one and a half hours.
How to book
Please send your name (full name) to the above address with the title "2/19 Reservation".
Please let us know your name (full name), number of people (max. 2), and phone number to the above address. We will reply with the number.
Reservations will be closed at 24:00 on February 18.
If the number of participants reaches the limit before that time, the reservation will be closed.
If you make a reservation by e-mail, you will be admitted in the order of your number.
Please make sure that you can receive e-mails from your PC if you are e-mailing from your cell phone.
If you cancel without prior notice
If you cancel without prior notice, you may not be able to make a reservation in the future.
Please be aware of this.
Please take your temperature, disinfect with alcohol, and wear a mask except when drinking.
Please do not enter the venue if your temperature is over 37.5 degrees Celsius.
There will be no streaming of this live performance.
---
Ryosuke Kiyasu (キヤスリョウスケ)スネアドラムソロ
今回のステージは、
スネアスタンドにスネアドラムをセットするオーソドックスなスタイルでの演奏を予定しており、
1時間半ほどの独奏になる予定です。
予約方法
上記アドレスに氏名(フルネーム)と人数(最大2名)と電話番号をお知らせください。整理番号を返信いたします。
予約は2月18日24時で締め切ります。
それ以前に定員に達した場合はその時点で予約終了となります。
メールにてご予約、整理番号順の入場となります。
携帯からメールされる方は、PCからのメールを受け取れるようにしておいてください。
なお事前連絡無しの無断のキャンセルの場合、
今後の予約ができなくなる可能性もありますので、
充分ご承知おきください。
入場の際には検温、アルコール消毒を行っていただき、飲み物を飲むとき以外はマスク着用をお願いします。
検温で37.5度以上の方の入場はお断りします。
Live House
Live House:

Address:

3-36-11-B1, Sendagi, Bunkyo-ku

Area:

Sendagi

Address (Japanese):

文京区千駄木3-36-11

Closest stations:

Sendagi
Details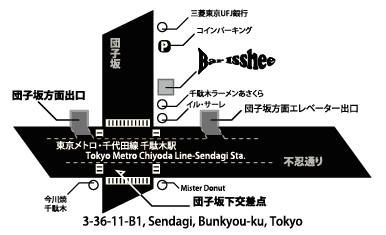 文京区千駄木3-36-11 千駄木センチュリー21 地下1階
千代田線千駄木駅徒歩2分、団子坂下交差点すぐ
「千駄木ラーメン あさくら」の地下
Small bar near Sendagi station (Tokyo Metro Chiyoda-line).
Previously located in Shibuya, Bar Isshee moved and reopened in August 2014.