TUMO (Yuma Takeshita: b, electronics, Yuji Ishihara: drums) + Yumi Hara (key, vo)
TUMO invitations series No.81
Yumi Hara is a Japanese performer based in London. As a composer, she has written pieces for Contemporary classical ensembles such as PianoCircus, Ensemble Bash and Smith Quartet, but became increasingly known as an improvisor/performer in avant/experimental rock/Canterbury/RIO for her percussive piano and floating vocals since she released a CD album 'Dune' with Hugh Hopper (ex-Soft Machine) in 2008. She has performed with Alfred Harth, Fred Frith, Mani Neumeier, David Cross, David Jackson, Charles Hayward, Tatsuya Yoshida, Yoshihide Otomo, HACO and many more. She has been the driving force of number of bands and projects such as The Artaud Beats (with Geoff Leigh, Chris Cutler, John Greaves), you me & us (with Daevid Allen, Chris Cutler), Jump for Joy! (with Jean-Hervé Péron, Zappi W. Diermaier, Geraldine Swayne, Chris Cutler, Geoff Leigh), THE WATTS (with Tim Hodgkinson, Chris Cutler) and Lindsay Cooper Songbook / Half the Sky (Chloe Herington, Chris Cutler, Dagmar Krause, Mitsuru Nasuno, Tim Hodgkinson). She is senior lecturer in music at University of East London.
Yumi is currently planning 2-Day residency at Café OTO, 27-28 Jun 2020 to coincide launch of her 2nd solo album.
Live House
Live House:

Address:

3-36-11-B1, Sendagi, Bunkyo-ku

Area:

Sendagi

Address (Japanese):

文京区千駄木3-36-11

Closest stations:

Sendagi
Details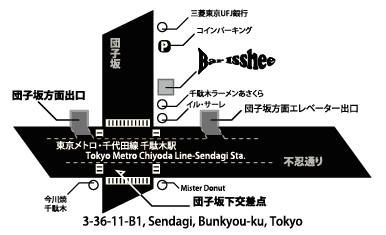 文京区千駄木3-36-11 千駄木センチュリー21 地下1階
千代田線千駄木駅徒歩2分、団子坂下交差点すぐ
「千駄木ラーメン あさくら」の地下
Small bar near Sendagi station (Tokyo Metro Chiyoda-line).
Previously located in Shibuya, Bar Isshee moved and reopened in August 2014.