Miminokoto
(Junzo Suzuki, Takuya Nishimura, Koji Shimura)
Kyohansha
(Keiko Higuchi, Isshee)
charcge 500jpy at the bar with drink fee
and donations for musician.
after the show we will do year end Nane party! Feel free to joining us!
Live House
Live House:

Address:

3-36-11-B1, Sendagi, Bunkyo-ku

Area:

Sendagi

Address (Japanese):

文京区千駄木3-36-11

Closest stations:

Sendagi
Details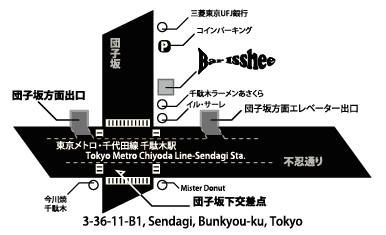 文京区千駄木3-36-11 千駄木センチュリー21 地下1階
千代田線千駄木駅徒歩2分、団子坂下交差点すぐ
「千駄木ラーメン あさくら」の地下
Small bar near Sendagi station (Tokyo Metro Chiyoda-line).
Previously located in Shibuya, Bar Isshee moved and reopened in August 2014.