Tumo with Takayuki Hatae
Tumo
Yuma Takeshita (electro-bass)
Born in Osaka in 1982,
Yuma Takeshita started playing experimental / improvised music around 2001.
After moving to Tokyo in 2011 he began constructing his own instruments by modifying an electronic-bass guitar with different sound modules and machines.
In addition, he has been providing technical cooperation for other artists' exhibitions in recent years.
https://nr-ytmusic.tumblr.com/
Yuji Ishihara (drums, percussion)
Guest
Takayuki Hatae (guitar)
Live House
Live House:

Address:

3-36-11-B1, Sendagi, Bunkyo-ku

Area:

Sendagi

Address (Japanese):

文京区千駄木3-36-11

Closest stations:

Sendagi
Details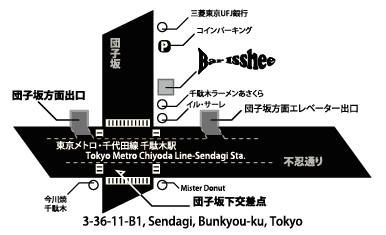 文京区千駄木3-36-11 千駄木センチュリー21 地下1階
千代田線千駄木駅徒歩2分、団子坂下交差点すぐ
「千駄木ラーメン あさくら」の地下
Small bar near Sendagi station (Tokyo Metro Chiyoda-line).
Previously located in Shibuya, Bar Isshee moved and reopened in August 2014.