Workshop 'Conspiracies' with THE WATTS
Tim Hodgkinson (cl, lap steel guitar, from Henry Cow)
Chris Cutler (percussion, from Henry Cow)
Yumi Hara (key, vo, found objects)

Participants will be playing Chris Cutler's Instruction piece 'Conspiracies' with THE WATTS
Bring your own 'something that makes sounds', instruments or non-instruments
All welcome regardless the experience in improvised music and level of instrumental ability
You will need to create your own 'Conspiracies' with other participants,
so please give us permission to receive group emails (or FB messages), and get in touch with other participants
in English or Japanese.
Booking essential: we will send you the instruction in advance
How to book:
send your full name to barisshee@keh.biglobe.ne.jp
by 24:00 1st December
with subject '12/4 booking'
you can book up to 2 people
We will send you reservation number


Live House
Live House:

Address:

3-36-11-B1, Sendagi, Bunkyo-ku

Area:

Sendagi

Address (Japanese):

文京区千駄木3-36-11

Closest stations:

Sendagi
Details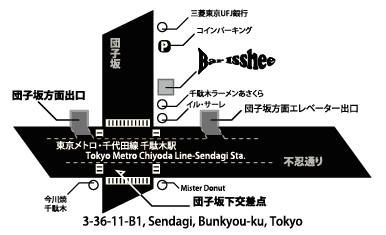 文京区千駄木3-36-11 千駄木センチュリー21 地下1階
千代田線千駄木駅徒歩2分、団子坂下交差点すぐ
「千駄木ラーメン あさくら」の地下
Small bar near Sendagi station (Tokyo Metro Chiyoda-line).
Previously located in Shibuya, Bar Isshee moved and reopened in August 2014.