bugs cry what (Yumiko Yoshimoto & Michio Karimata) CD release live
[day] open 2:30pm start 3:00pm
bugs cry what (Yumiko Yoshimoto & Michio Karimata) short set
[night] open 7:00pm start 7:30pm
bugs cry what (Yumiko Yoshimoto & Michio Karimata)
special guest Hiromichi Sakamoto (cello, musicalsaw, electronics, voice, etc.)
admission: [day] 1,000yen [night] 2,500yen [day&night] 3,000yen
bugs cry what are...
Yumiko Yoshimoto (guitar, daxophone) & Michio Karimata (flute, saxophone, voice, etc.)
Improvisation music duo, active in Tokyo music scene since 2013.
Live House
Live House:

Address:

2-38-16 Seijo, Setagaya-ku, Tokyo

Area:

Seijogakuenmae

Address (Japanese):

東京都世田谷区成城2-38-16

Map link:

Closest stations:

Seijogakuenmae (Odakyu Line)
Details
3min. walk from North/South exit of Seijo Gakuen Mae St. (Odakyu Line)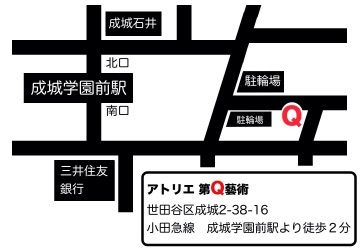 Get out from the ticket gate of North/South exit, turn left (to North Exit).
Immediately turn right and go straight about 100 meter till the end of narrow street.
Go across the road and turn right, seeing bicycle parking on your left.
And turn left on the first corner, go between two bicycle parkings.
Soon you can see line of train appear on the ground, and entrance of Atrier Q is on your right.
You can also go from South Exit of Seijo Gakuen Mae St.