TUMO with Guests volume#69 Guest: Nerve (From Hong Kong), suzueri
TUMOにゲストシリーズ #69 ゲスト:Nerve、すずえり

TUMO meets electronic improviser from HongKong.
TUMO
Yuma Takeshita (electric bass) + Yuji Ishihara (drums)
Yuji Ishihara

TUMO with Guest

Nerve (From HongKong)

Nerve is a Hong Kong based multidisciplinary artist whose practice mines the boundaries between contemporary music, sound art, multimedia theatre and underground subcultures. With a background in classical composition and 90s rave culture, he explores the extreme sound experience by mixing electroacoustic, beat, bass, fx and rave samples into a new form of free improvisation performance. His high-speed finger triggering and knob twisting style generates a harsh yet danceable noise that can't be categorized and moves beyond our imaginations. He is active in the local and international underground scene, performing and djing at 15 Grams, Ruffneck Bizness, HKCR, CTM Vorspiel (Berlin), LUFF (Lausanne), as well as numerous DIY outdoor parties.

suzueri

Live House
Live House:

Address:

3-36-11-B1, Sendagi, Bunkyo-ku

Area:

Sendagi

Address (Japanese):

文京区千駄木3-36-11

Closest stations:

Sendagi
Details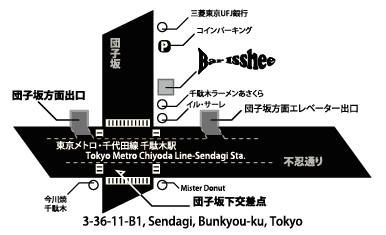 文京区千駄木3-36-11 千駄木センチュリー21 地下1階
千代田線千駄木駅徒歩2分、団子坂下交差点すぐ
「千駄木ラーメン あさくら」の地下
Small bar near Sendagi station (Tokyo Metro Chiyoda-line).
Previously located in Shibuya, Bar Isshee moved and reopened in August 2014.