Hong Kong and Japanese Avant garde Hip Hop encounter!

Kelvin T/DEADKEBAB & PSYCHIC$


Kelvin T (from HK/Absurd TRAX)

Kelvin T, full name Tang Fong Ching Kelvin, is a 20-year-old DJ and music producer from Hong Kong. Having started making music since he was in secondary school at the age of 15, Kelvin has managed to finish and self release 7 EPs on his own and released his EP'Sedative' through Hong Kong-based label Absurd TRAX.
In 2016, he joined the forward-thinking Shanghai-based label Genome 6.66Mbp and subsequently resided in local label Absurd TRAX later that year. He is releasing his first full-length album 'Unlock Voice' this year, embedding his emotions through his music and synths. He has played in the first Boiler Room event Hong Kong, in Sonar Festival Hong Kong both in 2017 and 2018, and his music has received plays on NTS Radio, Radar Radio and RBMA Radio.
His latest album 'Unlock Voice' envisions a music reality where synthesizers are taught to sing, scream, cry, and rage. By unleashing and unlocking the soul and the voices of samplers and synthesizers, Kelvin T tries to create an emotionally packed experience throughout the entire album. The album will be his first full length album after many years of experience in creating music.
interview
http://avyss-magazine.com/2018/12/11/4064/
DEADKEBAB & PSYCHIC$

Live House
Live House:

Address:

3-36-11-B1, Sendagi, Bunkyo-ku

Area:

Sendagi

Address (Japanese):

文京区千駄木3-36-11

Closest stations:

Sendagi
Details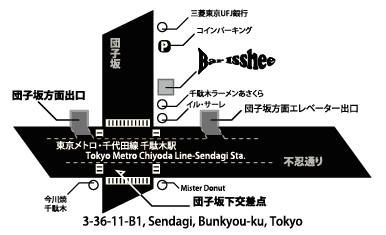 文京区千駄木3-36-11 千駄木センチュリー21 地下1階
千代田線千駄木駅徒歩2分、団子坂下交差点すぐ
「千駄木ラーメン あさくら」の地下
Small bar near Sendagi station (Tokyo Metro Chiyoda-line).
Previously located in Shibuya, Bar Isshee moved and reopened in August 2014.