Tumo (Yuma Takeshita + Yuji Ishihara)
■ - Yuma Takeshita
- Bio
Born in Osaka in 1982,
Yuma Takeshita started playing experimental / improvised music around 2001.
After moving to Tokyo in 2011 he began constructing his own instruments by modifying an electronic-bass guitar with different sound modules and machines.
- Notes
・"the most impressive was Takeshita, who fluently improvised with his electronically extended instrument. Since the 1970's, free improvisation has been one of the biggest challenges in the field of live electronic music and new instruments with a lineage of novel attempts such as Gordon Mumma's Ambivex(*1) and Nic Collins' Trombonepropelled Electronics(*2). It was obvious that what Takeshita played was more than a gadget, but an instrument that reflected actual playing experience in unpredictable situations and enabled him to achieve a distinct musical voice." - https://www.realtokyo.co.jp/en/performance/bar-isshee-sendagi_june-5-2018/
・"he began building his own electronic bass, an instrument that slowly developed through his love of modified sounds and textures. It would go on to become a large component of his music and aid him in his endeavors to eschew traditional electronic creation." - https://noogatoday.6amcity.com/the-tape-deck-june-2017/
- Past Events
Nuit Blanche Kyoto 2016 (performance)
TPAM Fringe 2017 New Waves of Improv in Tokyo (performance)
■Yuji Ishihara
■guest - Seiichi Yamamoto
Seiichi Yamamoto (山本 精一 Yamamoto Seiichi, born July 16, 1958) is a Japanese musician. While perhaps most famous for his role as guitarist for the noise rock band Boredoms, he has released multitudes of records both as a solo artist and with several other musicians and bands, in addition to composing the soundtracks to several films.
https://en.wikipedia.org/wiki/Seiichi_Yamamoto
Live House
Live House:

Address:

3-36-11-B1, Sendagi, Bunkyo-ku

Area:

Sendagi

Address (Japanese):

文京区千駄木3-36-11

Closest stations:

Sendagi
Details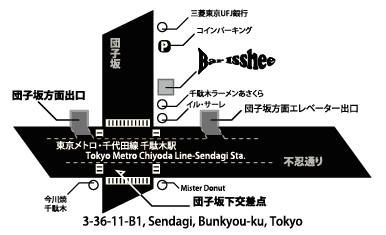 文京区千駄木3-36-11 千駄木センチュリー21 地下1階
千代田線千駄木駅徒歩2分、団子坂下交差点すぐ
「千駄木ラーメン あさくら」の地下
Small bar near Sendagi station (Tokyo Metro Chiyoda-line).
Previously located in Shibuya, Bar Isshee moved and reopened in August 2014.