Rough Cave, Yuma Takeshita
Gig
When:

2018 / 12 / 13 (Thu)

Live House:

Bar Isshee - Sendagi

Categories:

Open Time:

19:30

Start Time:

20:00

Door Price:

donation + 500JPY + order

Added by:
Details
Yuma Takeshita (mechanized instruments)
Rough Cave (from Switzerland) - Beat Keller (feedbacker guitar), Oliver Roth (modular synth)
https://beatkeller.com/de/projekte/rough-cave/
+++++++++++++++++++++++++
ROUGH CAVE
Oliver Roth - modular analog synth
Beat Keller - feedbacker electric guitar
Whoosh! Smack! – The music produced by Swiss duo Rough Cave could be the soundtrack to a dystopian comic strip. A comic strip whose storyline can always be interpreted anew and takes regular unexpected turns: the perfectly ordered chaos, in which acoustic breakpoints are continually merged into a new ensemble. Rough Cave is a relatively new noise duo consisting of Beat Keller and Oliver Roth.
Oliver Roth manipulates sound with his modular analogue synthesizer as well as complementary electronic instruments, thereby creating a gloomy, futuristic sound atmosphere.
Guitarist Beat Keller uses an unusual type of string instrument: with his electric feedbacker guitar, a unique invention that uses an in-built loudspeaker to directly enable a feedback effect on the guitar strings, Beat Keller produces completely new sound structures. These sound structures, combined with Roth's synthesizer, achieve an explosive synergistic depth.
atext and photo by: Philipp Bürkler
---
Live House
Live House:

Website:
Address:

3-36-11-B1, Sendagi, Bunkyo-ku

Area:

Sendagi

住所 (日本語):

文京区千駄木3-36-11

Closest stations:

Sendagi
Details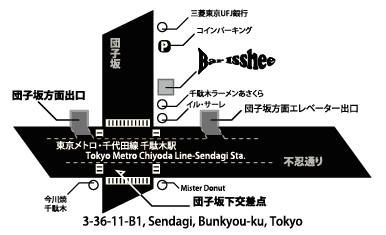 文京区千駄木3-36-11 千駄木センチュリー21 地下1階
千代田線千駄木駅徒歩2分、団子坂下交差点すぐ
「千駄木ラーメン あさくら」の地下
Small bar near Sendagi station (Tokyo Metro Chiyoda-line).
Previously located in Shibuya, Bar Isshee moved and reopened in August 2014.