Joyamai - Dance on New Year's Eve 41st Anniversary
Gig
When:

2018 / 12 / 31 (Mon)

Live House:

Atelier Q (Atelier Dai Q Geijutsu) - Seijogakuenmae

Categories:

Open Time:

19:20

Start Time:

19:41

Adv. Price:

3,000yen

Door Price:

3,500yen

Tickets:

Added by:
Details
Joyamai - Dance on New Year's Eve
41st Anniversary 2017-2018
Yuriko KODAMA (ryukyu dance)
Akihiro HIRANO (dance performance)
Anli OHNO (dance)
Izumi SEKIYA (performance)
Koji OGUSHI (art performance) + Isso MIURA (butoh)
Yumiko YOSHIMOTO (guitar)
Fumie SAKUMA (dance)
Makiko HATA (dance)
Ken'ichi TAKEDA (taisho-koto)
Isako WAKAO (dance)
Haruo HIGUMA (video performance)
Gan TOKUDA (butoh)
---
Live House
Live House:

Website:
Address:

2-38-16 Seijo, Setagaya-ku, Tokyo

Area:

Seijogakuenmae

住所 (日本語):

東京都世田谷区成城2-38-16

Map link:

Closest stations:

Seijogakuenmae (Odakyu Line)
Details
3min. walk from North/South exit of Seijo Gakuen Mae St. (Odakyu Line)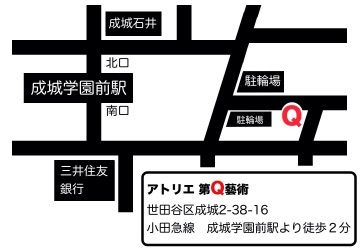 Get out from the ticket gate of North/South exit, turn left (to North Exit).
Immediately turn right and go straight about 100 meter till the end of narrow street.
Go across the road and turn right, seeing bicycle parking on your left.
And turn left on the first corner, go between two bicycle parkings.
Soon you can see line of train appear on the ground, and entrance of Atrier Q is on your right.
You can also go from South Exit of Seijo Gakuen Mae St.