Half the Sky: Music of Lindsay Cooper DAY 3 (Cutler et al) opening set: Canterbury Favourites part 2
Gig
When:

2016 / 12 / 2 (Fri)

Live House:

Goodman - Akihabara

Category:

Open Time:

19:00

Start Time:

19:30

Adv. Price:

4300 yen

Door Price:

4800 yen

Tickets:

Website:

Added by:
Details
Half the Sky: Music of Lindsay Cooper DAY 3
Opening set: Canterbury Favourites part 2
'Half the Sky was presented as a solid ensemble with the music perfectly rehearsed but also with an unusual warmth ...This was a very emotional finale of this edition of the Rock in Opposition festival...' (Victorio Calvo)
PROGRAMME:
A selection of Lindsay's compositions for the groups Henry Cow, News From Babel and Music for Films, 1978 - 1982
ENSEMBLE:
Yumi Hara: arrangements, piano, keyboards, lever harp, voice
Miwazow: koto, ching-dong percussion, voice
Chlöe Herrington: bassoon, soprano sax, melodica
Wataru Okhuma: alto sax, clarinet
Nasuno Mitsuru: bass
Chris Cutler: drums
OPENING SET: Canterbury Favourites part 2 (Yumi Hara: piano, vo, Kazuto Shimizu: key, vo, Mitsuru Nasuno: bass, Chris Cutler: drums + members of Half the Sky) Yumi & Kazuto, two keyboard players will play Soft Machine and Robert Wyatt tunes in which piano and organ sounds often co-exist, then joined by Chris Cutler and Mitsuru Nasuno for a Soft Machine piece.
HISTORY:
In 2013, soon after Lindsay Cooper passed away, Matthew Watkins made a call for arrangements of 'Slice' for a special edition of his podcast 'Canterbury Sans Frontières: Episode 8'. I made a transcription of the piece and recorded it for solo clavichord. Chris Cutler and I also played it a few times when we were both in Japan and NY. Soon after, inspired by the three memorial concerts Chris organised in 2014 with the original bands, I put together Half the Sky ('Women hold up half the sky') to play Lindsay's music in Japan. In its constitution, Half the Sky follows her general practice and the example of the original bands, Henry Cow (50% female) and News from Babel (75% female).
MATERIALS:
With the exception of Slice, it was only after, and because of, the 2014 concerts that any working scores for the Henry Cow pieces, painstakingly assembled from Lindsay's notebooks, original band-members' surviving parts and a careful analysis of the recordings, become available. A handful of the News from Babel songs – none of which had never been performed live – were reconstructed by Zeena Parkins, the rest I had to do from scratch, also rearranging everything for a mixture of occidental and oriental instruments. This concert is conceived very much as a music of the present, and not an academic reconstruction. (YH)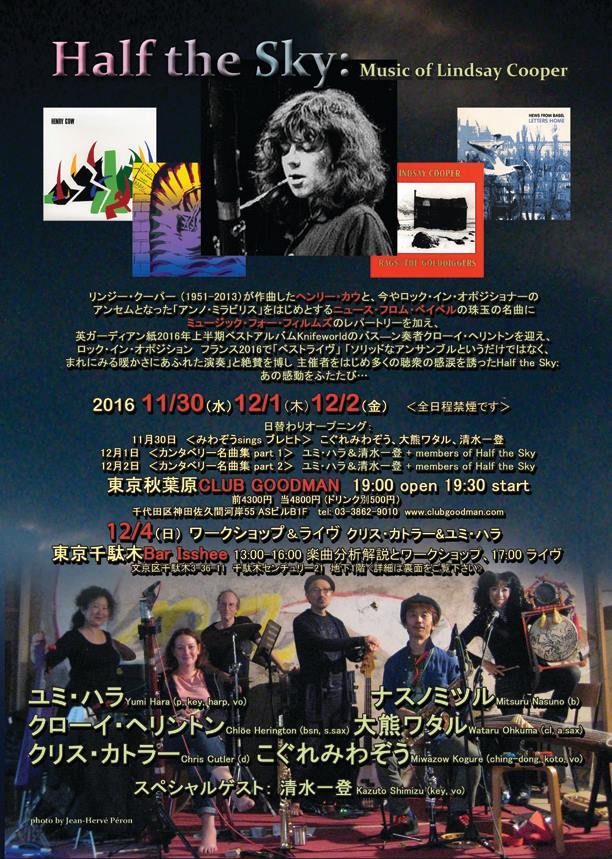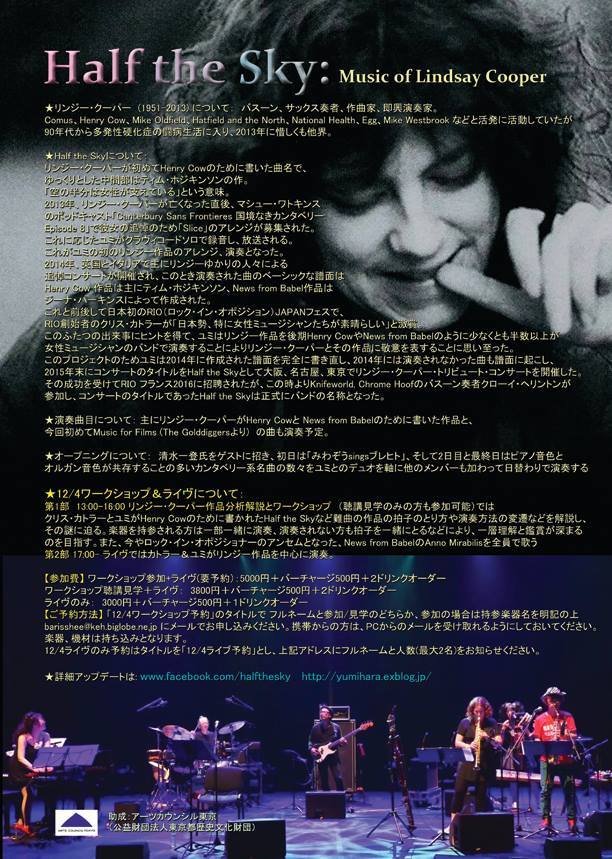 ---
Live House
Live House:

Website:
Address:

A.S Building B1F, 55, Kanda-Sakumagashi, Chiyodaku

Area:

Akihabara

住所 (日本語):

東京都千代田区神田佐久間河岸55 ASビルB1F

Map link:

Closest stations:

Akihabara
Details
Take the Showa Dori Exit of JR Akihabara station and go straight ahead, cross the big road, passing under the overpass, and then head right. When you get to the Metro exit, just before Kanda river, turn left. You will find Club Goodman on the right in the basement of a musical instrument shop.

Interested:
It's too late to register for this Event.